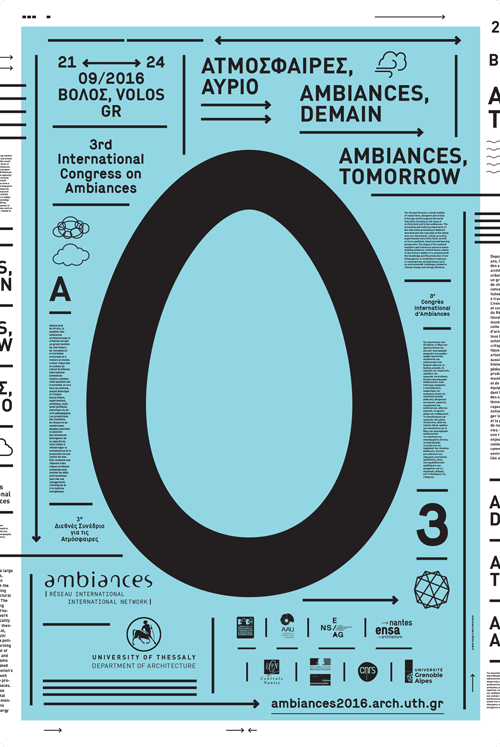 Ambiances, tomorrow
3rd International Congress on Ambiances
Volos, Greece: 21 - 24 September 2016
This third Congress will attempt to take stock of research into, and applications based around the notion of ambiance both in the scientific sphere and with regard to the future of design and artistic creation.
For the past 40 years, a large number of researchers, designers and artists in Europe and throughout the world have been focusing on the issue of architectural and urban ambiances. The increasing and enduring importance of the International Ambiances Network demonstrates the topicality of this whole area on a theoretical, critical, practical, experimental and artistic level, as well as from a political, historical and learning perspective. The output of the network members and numerous research teams tackling ambiance-related issues attests to this notion's ability to re-examine both the knowledge and the production of our living spaces. It constitutes a response to contemporary societal issues such as environmental challenges related to climate change and energy efficiency.
The Third Congress, after Grenoble (2008) and Montreal (2012) will be used to circumscribe the notion of ambiance (or atmosphere) in a dynamic prospective and demonstrate how it can become an operator in transforming our habitats, cities and societies. So, The future of ambiances can be analysed according to a three-fold perspective in terms of its pragmatic, theoretical and prospective dimensions.
Authors are invited to submit proposals (in French, English or Greek) dealing with one or more of the six themes proposed.
1. Ambiantal experiences and experiments
2. Traces, notations and representations of ambiances
3. Projecting and manufacturing the ambiances of tomorrow
4. Ambiance, atmosphere, climate: theory, politics and criticism
5. Ambiances and territories in transformation
6. Ambiance as heritage of the future
The Congress is organised jointly by :