ATHENS
METRO
Athens Metro MAP
http://www.ametro.gr/files/images/AM_Athens_Metro_map_July12_en.jpg
Information for all Athens metro stations
http://www.greece-athens.com/metro/larissis.php
AIR Travel
Athens International Airport
Metro lines that connect Airport and city center
http://www.athensairporttaxi.com/metro/timetable-to-airport
BUS Travel
Bus line X93. Airport to Liossion Bus Station
http://www.athensairportbus.com/en/timetable/x93airporttokifisos.html
Other bus lines that connect Athens city center (Syntagma Square) to airport
http://www.athensairportbus.com/en/
Directions to help you with the KTEL bus that you need to take from Athens to Volos.

You should go to the KTEL - Liossion bus station in order to take the bus to Volos. The nearest Metro Station to the KTEL Liossion bus station is the "Kato Patissia" station. You could walk from there (10 minutes or so) or take a taxi to the KTEL Liossion.

Here is a link to google maps. Check at the upper right corner for Bus Liosia (KTEL Liossion) and Kato Patissia metro station.

https://www.google.com/maps/d/viewer?mid=186vrGiENZTDSTS2XuRGuWZWsIEw&hl=en
Also:
KATO PATISSIA
GPS : 38.011530, 23.728851
- la gare de bus où prendre le bus pour Volos KTEL LIOSON
GPS : 38.010129, 23.722442
- l'arrêt de la navette du X93
GPS : 38.010262, 23.721113
ici en photo satellite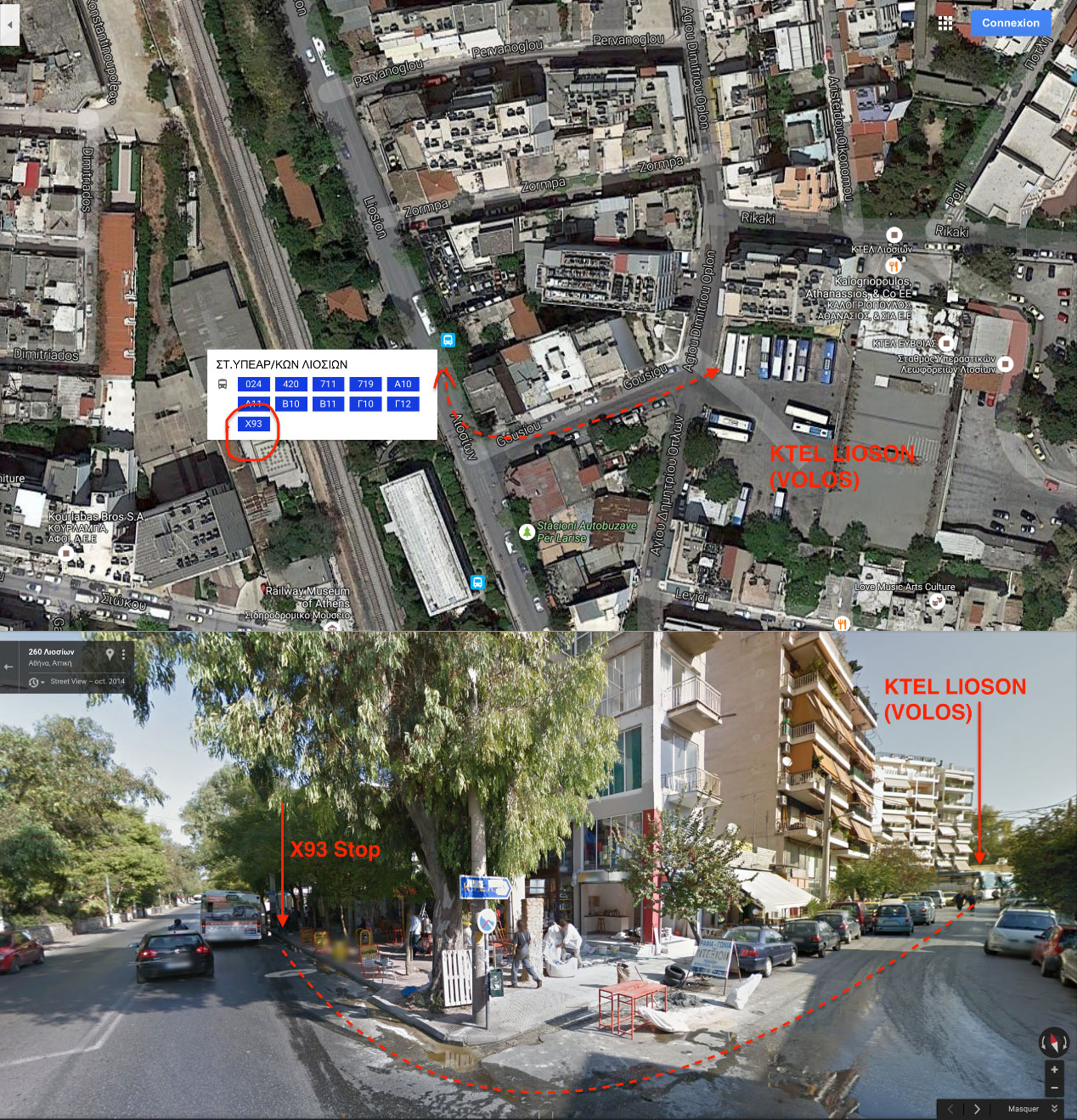 PATHWAY FROM KATO PATISSIA METRO STAΤION TO KTEL LIOSON COACH STATION which departs for VOLOS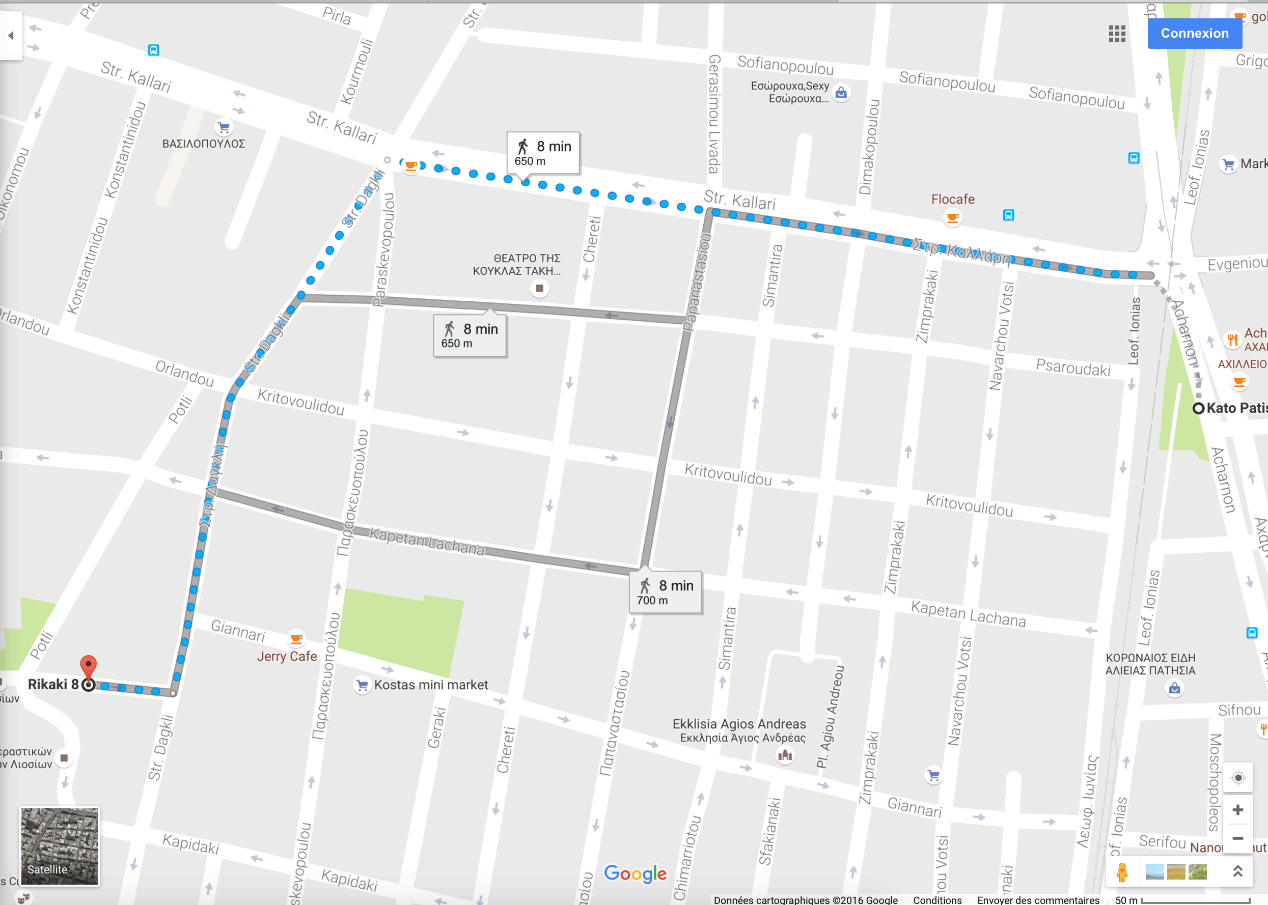 Airport EXPRESS Bus Connections
http://www.oasa.gr/content.php?id=airlines&lang=en
Athens Airport – All Public Transport Services MAP
http://www.oasa.gr/pdf/en/maps/keypoint/airport1.pdf
Link to English booking system of KTEL for Volos destination – leaving from KTEL Liossion (Liossia)
KTEL Magnesias (from Athens to Volos destination or Volos to Athens destination)
Information & booking telephone numbers
(Make a booking with your name and destination. Also you should arrive and claim your ticket 30minutes before bus's departure time, otherwise the tickets are cancelled)
KTEL bus Routes: 14505 (Toll free number for mobile and landline)
Volos Station: 800-11-35555 (Toll free for calls from Athens, Thessaloniki and Volos)
Telephone center for Information / Reservations:
0030-24210-33253
0030-24210-33254
0030-24210-25527
fax: 0030-24210-25573
General Travel Information – Athens
http://www.athenstransport.com/english/
TRAIN Travel
Athens Railway Station
Online ticket booking and Passenger Transportation Services
Railway network MAP
http://www.trainose.gr/wp-content/uploads/2014/03/%CE%A7%CE%B1%CF%81%CF%84%CE%B7%CF%82-%CE%94%CE%B9%CE%BA%CF%84%CF%85%CE%BF%CF%851.pdf?8ca0bf
Athens Central Railway Station (St.Larissis Station)
In order to get there you need to use the red metro line and stop at the St.Larissis Station
http://www.ametro.gr/files/images/AM_Athens_Metro_map_July12_en.jpg
Please advise the train stuff because sometimes (depends on the type of ticket) the train will stop in the city Larissa and there you have to change trains in order to arrive in Volos. You don't need a new ticket if you have already paid for Volos destination.
Hotel Reservations
https://www.tripadvisor.com/HotelsList-Athens-Downtown-Hotels-zfp713394.html
THESSALONIKI
AIR Travel
Thessaloniki Airport
http://www.thessalonikiairport.com/
Information and Transportation from airport of Thessaloniki to the city center
http://www.thessalonikiairport.com/information/
There is a bus just outside the airport (Bus line 78 "K.T.E.L - AERODROMIO") that can get you to the KTEL Macedonia bus station in order to travel to Volos.
Thessaloniki airport (AERODROMIO station) to KTEL Bus Station
Bus line 78 "K.T.E.L - AERODROMIO"
http://oasth.gr/#en/airport-macedonia/
BUS Travel
KTEL Macedonia bus station
http://ktelmacedonia.gr/en/home/list/
KTEL Bus routes from Thessaloniki to Volos (KTEL Macedonia in Thessaloniki – destination Volos)
http://ktelmacedonia.gr/en/routes/list/tid=26
KTEL Bus routes from Volos to Thessaloniki (KTEL Magnesia in Volos – destination Thessaloniki)
http://ktelvolou.gr/en/routes/map/&map=greece&place=2
TRAIN Travel
From airport to the main railway station of Thessaloniki (N.S. Station-Neos Sidirodromikos Stathmos Station-New Railway Station)
http://oasth.gr/#en/macedonia-suburban-bus-terminal/
Main railway station of Thessaloniki. Tickets and other information
N.S. Station - Neos Sidirodromikos Stathmos Station - New Railway Station
http://www.trainose.gr/en/passenger-activity/suburban-railway/thessaloniki-suburban-railway/